Rukayon College and School Management Software
Rukayon is an online school management system software that simplifies the institute's academic & administrative process effortlessly.
Our system
A quick look
A complete solution for school/college managemnet with a enormous number of functionality
Our Core Feature
Top basic features
From the huge number of efficient features here are some that you would like to take a quick look.
Teacher
Add and assign teacher with their designation
Grade
Add grades with numbers and other details
Salary Template
Add your very own salary templates
Hourly Template
Add your very own hourly template
Product Category
Organize all your products under specific category
Product Purchase
Easily keep records of your expenses
Payment History
Keep records all of your staff 's payment history easily
Income
Keep records all of your incomes easily
Notice
Add notice and that will be displayed to all users dashboard
Reset Password
Every user can reset their own password
Social Link
Add social links for every user
SMS Settings
Configure your sms settings with proper details to send sms
*Good to know! You are not limited to the features listed here only.There's a lot more to explore !.
Managing school/colleges was never been so easy.
With this huge and robust system it is more easier to manage one or multiple school at a time.
Pricing now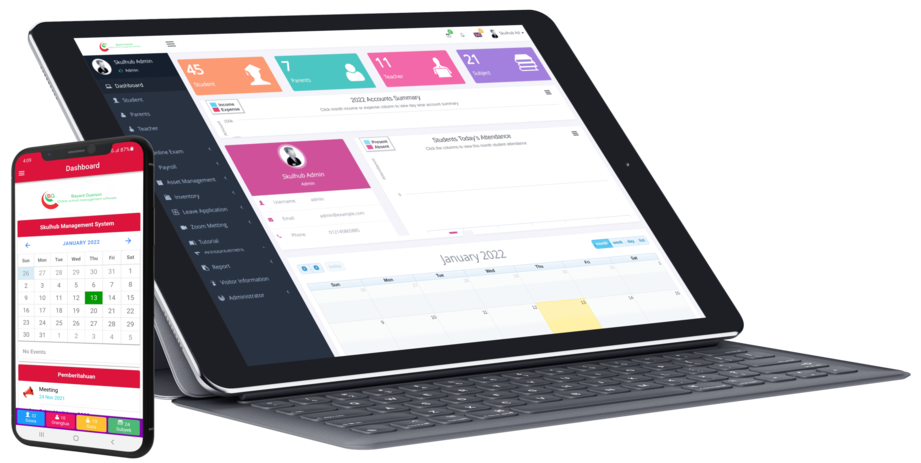 A complete solution for school/college managemnet.
There's almost nothings left you can't do.Rather ,with some additional addon you can increase the systems functionality.
Easy to undersatnd for everyone

Built for maximum efficiency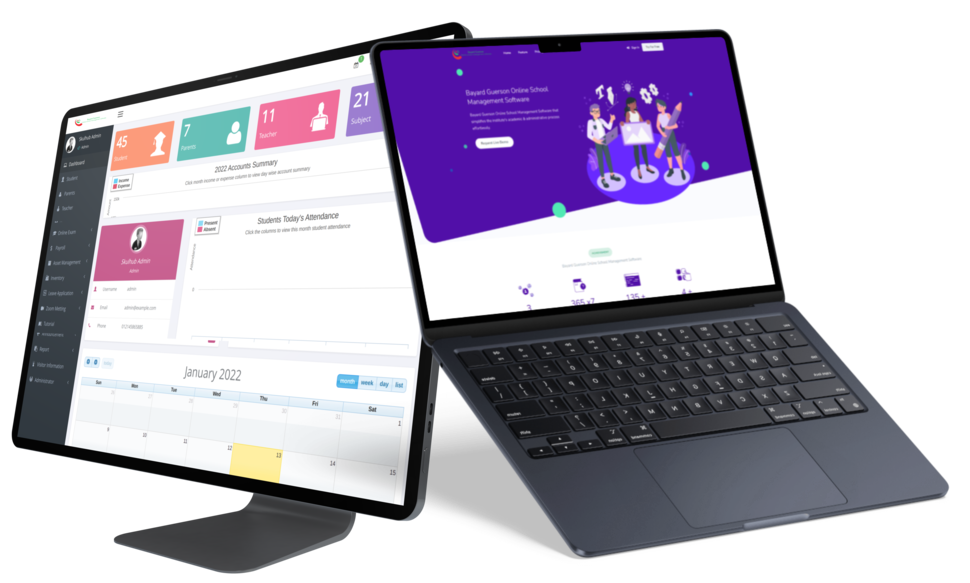 Build tools
Built for awesomeness
We use the latest technologies and tools in order to create a better code that not only works great, but it is easy easy to work with too.
Created with the latest technologies
We use the latest technologies and tools in order to create a better code that not only works great, but it is easy easy to work with too.
Built by experienced and efficient developers
A group of experienced and and well efficient developers built this system to make your task easythan ever.
Made for best user experience
This easy to understand system is ready to give your user athe best user experiemce.
Complete control at your hand
This gives you the supreme control all over the system .Manage everything as you line from the frontend to the backend.Give users whatever permissions you want
Really useful features
These are the very basic yet some must have features which you will like to have a look .
Parents
Add parents with associated details
Section
Every class may have many sections depending on category,capacity and section teacher
Routine
Easily set a well functioned routine for each class
Exam Attendance
Easy exam attendance taking system
Question Level
Set any question level as per your need
Location
Keep records of where your assets are assigned
Ebooks
Add a list of ebook for students to read
Transport
An in built transport management system
Category
Add different category for different types of hostel
Global Payment
Global payment option is availabe.
Holiday
Authority can add holiday with day count and show it on all user's dashboard with notification
Classes Report
Class Report: Easily generate report based on classes
Admit Card Report
Auto generate admit card for students
Leave Application Report
Admin can print or preview all the leave application list
Student Fine Report
Easily print/preview the copy of a students fine report
Student Group
Send messages to a specific student group easily
Permission
Andin can easily control who can do what !
Zoom Settings
This helps to manage live class using zoom service
Send us any suggestions !!
We would really appreciate your valuable suggestion and work on that to provide a better service.
Try our free trial
You can try the free trial which includes 85+ basic features and have a look about the usages.
Easy to reach customer support
Our dedicated support team is here to help anytime: info@rukayon.com